let me tell you a little about our new house. it was built in 1912 and is on the most beautiful tree lined street, in the most beautiful neighborhood. the previous owners had done everything to update it including new kitchen and bathrooms, finished the basement (although it is a shelf basement) and finished the attic that we have transformed into heaven on earth for our girls (a giant playroom) not to mention new plumbing and electrical and all that stuff. my favorite part of the house is all of the original wood work, the built-ins in almost every room, and my most favorite is the original stained glass that is throughout the house (turquoise no less)
chris actually bought this house while i was in yuba city for my 10 year high school reunion, he said when he first walked through it he knew without a doubt i would love it... he was so right.
here is a shot of what i have done with the living room, it's not the best shot because it was so dark and dreary out today, but you get the idea!
*updated the photo to a better one taken on this sunny, pretty, breezy day!
and a shot of the little sitting area just off the living room this is right ahead of you as you walk in the front.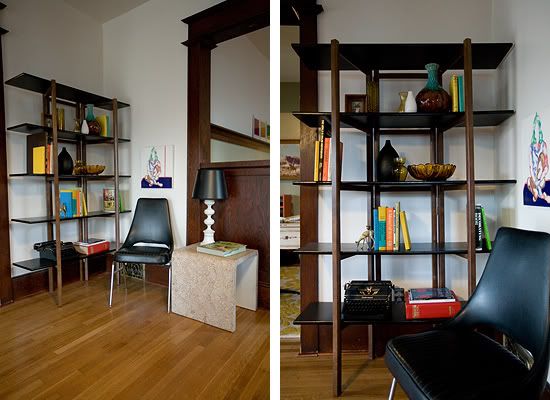 i need to get a few pictures hung in the dining room and the wallpaper up in the playroom but hopefully will have those done by the end of the week.