i loved all of these questions, i had a lot more fun with these than the photography ones. obviously i am no pro but it is something i love to do... in fact decorating my house has been my total obsession as of late. so hopefully these make sense to someone.
Your bedding, your little girls bedding, and the yellow and white rug, custom, homemade, or store bought?
my bedding is from anthropologie's windermere collection, and the throw blanket and pillow are anthropologie as well. estee's bedding is a mix of ikea (the duvet that is folded down at the bottom) vintage chenille mauve blanket (sweet find by ann, still cant believe she gave it up!) and the big throw pillow is from anthropologie. and the big yellow and white rug (in my den) is from anthropologie (love it but it sheds like a mother)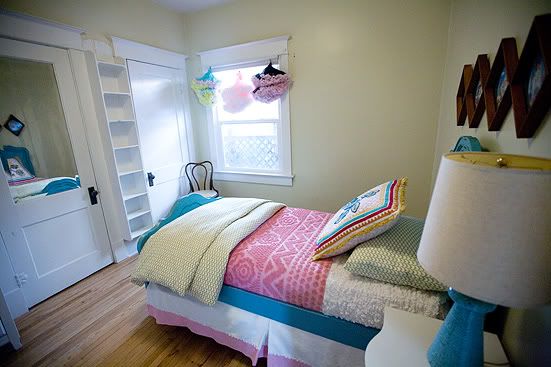 What inspired the décor in your home?
i am pretty decisive when it comes to decorating my house, i never take a long time to decide on anything from paint colors to rugs and chairs and lamps, i just know what i like and what i want. i am obviously really inspired by a lot of trends from the 50's 60's and 70's mixed with a touch of modern. i love color and i love to mix color and prints. decorating for me is just fun, i don't spend time thinking about what others will think about it. i am not an interior designer so i am sure i break a lot of the rules, but when i look at my home it makes me happy and is a place i want to be, filled with lots of things that remind me of good times and loved ones.
my aunt lane is an AMAZING interior designer and has always been a huge inspiration to me, she is legendary at mixing color and pattern flawlessly, and i swear she is the first person to introduce mid century modern pieces to me way back in the day. she has the most fabulous collection of antique furniture, specifically MCM couches that she had reupholstered.
what is your favorite piece in your home(which could be a very difficult question)?
probably the key that my husband's brother alan sculpted in high school (on our mantle) and all of my mom's paintings (i have four in total and LOVE them)
where is your favorite place to find treasures for your home? - specifically textiles. I really love the patterns on your bedding!
i love to look on ebay for vintage textiles of all kinds, and of course thrifting. also, obviously anthropologie. my mom has cupboards full of vintage and new bedding in pretty much all sizes and shapes, she is the reason i love textiles so much.
where are your favorite places to find your collectibles and furniture? thrift stores, craigslist, ksl?
yes, all of the above. i stalk thrift stores, ksl and craigs list pretty much daily. and ebay too, i love that i can go antiquing in the middle of the night on ebay. i keep a notepad handy so that whenever i think of something i want to look up on ebay i write it down so i wont forget.
Where would you shop for home accessories such as pillows, rugs, bookcase/decorative accessories?
almost every rug and pillow in my house is from anthropologie, what can i say? i still love the store:) but almost all of my decorative accessories are thrifted (milk glass vases, cameras, figurines. etc.)
I know you get a lot of your furniture at anthropologie because that is my favorite store. But where is your favorite place to shop for home decor locally or online, other then anthropologie?


what are your favorite stores or places that inspire you the most?
i LOVE your style of decorating. i'm not sure what to call it but it's fresh, unique and things go "together" without "going together" - if that makes sense. do you shop consignment stores, estate sales? i'm in SLC and would love to know where you snag some of your finds.
well, this is a tough question surprisingly because most of the furniture and home decor in my house is either anthropologie or thrifted. i think it is important to mix your vintage treasures with new, nice things or else it can just look like a pile of junk. but if funds were unlimited i would buy one of everything from
DWR
, and i love to look at sites that sell fancy antiques for ridiculous prices like this one
here
because it gives me inspiration when i go to thrift stores of things to look for :) oh, and now that it is garage sale season i am all over it! my new neighborhood is jam packed on the weekends!
Your style, to my untrained eye, seems the perfect mix of mid-century modern and vintage/eclectic. How do you mix the pieces and colors you do? Do you have a grand scheme? Do you just pick things you like and they happen to all look fabulous together? And how does one transform her house from one style (mine is very Pottery Barn classic circa mid-2000's) into another style, such as yours, piece by piece, without it looking like a garage sale?


How do you manage to pair patterns + prints together in your home decor (and please say it can be learned)?
that's the look i was going for, so thank you so much!:)
when i am mixing patterns and color i do try to look for common shapes and colors (within different patterns) i try to keep a common theme of sorts and i try to make all of the pieces relate in some way to each other without really matching. when i do have two pieces that don't go together at all (like my two couches in my living room) i try to use other things to tie them together, like my throw pillows and artwork.
as far as changing styles completely i would say, take it slow but try and focus on a room at a time. i bet you will find that much of your existing stuff can make sense incorporated with your new stuff if done right.

I've been wondering where you got your black and white old fashioned style couch that is in your sitting room. Did you re-upholster it yourself, or did it come that way?
it's the anthropologie amelie couch, but they no longer make it in my print anymore. but look at the one on sale
now
just a little bit obsessed.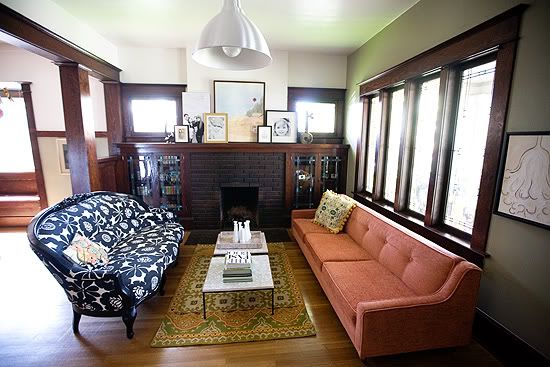 i always love your paint colors!! can you share some of your current favorites?
i always buy i tester and paint the actual wall before i commit to a color, here are a few tried and true (for me anyway)
a really good green is behr's martini olive. i also like mink from sherwin williams it is the pretty gray that was in my old dining room, i think i will be using it again soon. i also like S&W tansy green (pretty bold though)
wish i had more to share, i am going to be painting a few walls soon, so i may have more to share in the next few months.
where did you get estee's beautiful bed (it's turquoise i think)
i love her bed too, in fact the girls share a room and simone sleeps on a trundle that pulls out from under her bed so now it is both their bed! works out great:)
you can find it
here
Do you have any favorite websites or magazines that you use for inspiration?
love
design sponge
,
apartment therapy
,
sfgirlbybay
,
door sixteen
,
desire to inpire
,
ohdeedoh
, and
hus&hem
to name just a few, but i could go on for days with sites i look at, the whole time thinking "my house looks like doo doo":)
Where did you get those fabulous daisy coffee tables in your living room? LOVE them!!

can you guess???
i bet you can!
i'm almost embarrassed to write this...
anthrologie.