yesterday was a bad, bad day. i mean i know it could be
much worse
, but it honestly seemed like it would never end.
want to hear about it?
i woke up and got estee ready for preschool, as i was buckling the girls in their car seats my neighbor (who already hates us and called chris an a-hole because we are a construction zone working on our driveway and garage that he DIDN'T want us to build) was backing out of his driveway. I heard a loud noise and looked up to find him getting out of his car, throwing his sunglasses as far as he could and screaming profanities throughout the neighborhood. i had my girls in the car but what really got me was when he looked at the sweet guy who was working on our driveway and screamed "i f@#$%@g hit your trailer you f@#$%&g idiot) i could feel my blood boiling so i looked at him and said calmly "it's his fault you hit the trailer parked on the other side of the road?" now normally i would never have said a word, but i knew the man wouldn't say anything because he cant speak english and because well frankly, the guy is a serious jerk. so after i made my little snip he looked at me and yelled... "OH SHUT UP" say what??! are you joking that this grown man just told me to shut up? so maybe i told him how ridiculous he is and how childish and maybe i even called him a jerk... i cant be too sure because i was pretty mad.
dang... i was seriously sick to my stomach from the incident all day long. in fact i still am. not to mention the fact that on our way to preschool estee kept telling me her eye was bugging her and since i was so hopped up on adrenaline i didn't pay much attention... until i was getting her out of the car and she had a teary, green goopy, pink eye... the worst. so needless to say, i am still in full on sanitation mode and every surface in our house has been cleaned probably 500 times. it looks like it is almost cleared up and since it has been 24 hours she is no longer contagious. phew.
now i am throwing together a guest room for my longtime bff amanda who is coming to town on thur. so excited to see her, it has been years. just dont know why i put everything off until the last min.?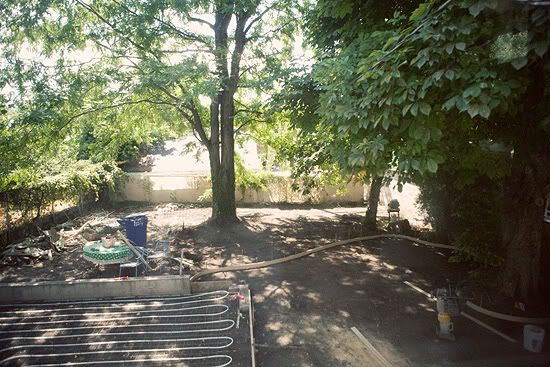 our backyard, they are pouring concrete this week, we are building a garage with a master suite above it and pouring a driveway, all of which we didn't have.
doesn't this photo pretty much make you sick to your stomach? and yes, our house does smell like a convalescent home... lysol.
p.s. don't think differently of me, i promise i don't go telling people they are ridiculous on the street all the time... and trust me, he deserved it. big time.