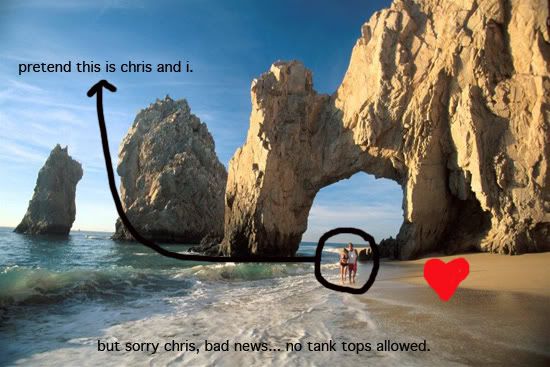 in just about a month and a half chris and i and a few friends will be cruising the mexican riviera. for a whole week. we just got everything booked and thanks to my supermom, the girls will be warm in their very own beds every night.
i am so excited.
so, i've never been, any activities we must do? any restaurants we must eat at? i admit to being a little bit snobby about the destination (what with the whole spring break revolution and all) but trust me i'm not complaining. so tell me all the great things i should see slash do slash eat in cabo, mazatlan and puerto vallarta.
oh, and tank tops on guys are a big pet peeve of mine. tank tops and jewelry.
i'm sure there are some great ones out there... but i have yet to see them.
i am sounding like a real brat tonight, i just need to go to bed :)