and it's all my fault. sunday night chris and i were putting the girls down for bed, he was changing simone's diaper (reason #932 we need to get her potty trained) on the changing table and i was hanging up all of their clothes in the closet... i shut the door hard, since our doors are so old and heavy they always require a big push to get them shut. well, long story short i
shut
the heavy door on simone's toe (i had no clue she could even reach the door from her changing table) and she cried and so did i and she told me through her sobs "it's okay mommy" and it broke my heart like it's never been broken. without going into to much detail her baby toe on her left foot was pretty much split in half and instead of stitching it, they took the front part off leaving her without a nail or nail bed. did i mention how terrible i feel and how i cried for two hours straight while chris took her to the er. and you should know that my simone is probably the sweetest little girl on the planet.
see for yourself...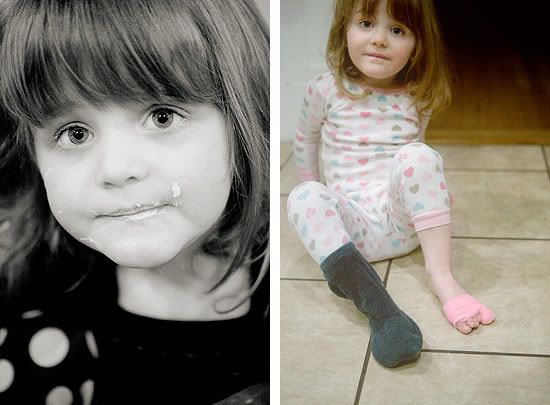 on the left, enjoying her powdered dounut just minutes before the ordeal and on the right, when she got home :( don't
mind the black sock?!?
this mom business can be really tough sometimes.
oh and if you have any suggestions at all on how to get a 2 year old to keep a bandage on their foot... please, please let me know.