if you want to be the mom that makes the world's best chocolate chip cookies, then this one's for you.
that was my mom growing up. but sadly her recipe does not work in utah. i kid you not, with the altitude (or maybe that my mom is stingy with her recipes and never really divulges her secrets) i can't get her recipe to produce the wonderous cookies i remember from my childhood.
then my sister in law erin shared this recipe with me. OH MY, THE BEST. and i have tried a lot of recipes. they are big, fat and chewy deliciousness. oh and they are really pretty too.
see...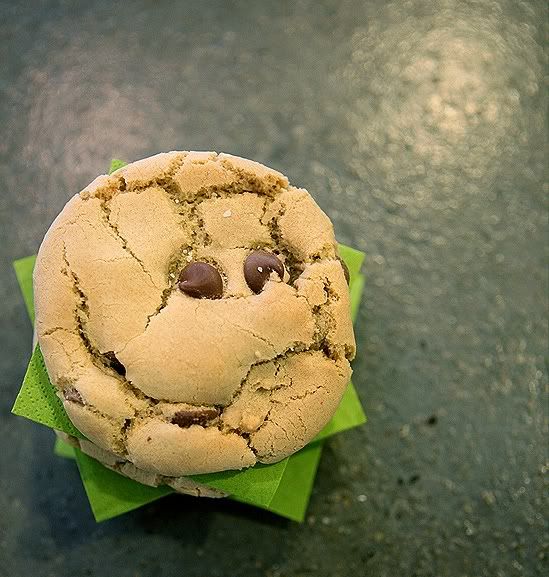 here is the recipe.
Ingredients:
2 cups all-purpose flour
1/2 teaspoon baking soda
1/2 teaspoon salt
3/4 cup unsalted butter, melted
1 cup packed brown sugar
1/2 cup white sugar
1 tablespoon vanilla extract
1 egg
1 egg yolk
2 cups semisweet or milk chocolate chips
Directions:
Preheat the oven to 325 degrees F (165 degrees C). Grease cookie sheets or line with parchment paper.
Sift together the flour, baking soda and salt; set aside.
In a medium bowl, cream together the melted butter, brown sugar and white sugar until well blended. Beat in the vanilla, egg, and egg yolk until light and creamy. Mix in the sifted ingredients until just blended. Stir in the chocolate chips by hand using a wooden spoon. Drop cookie dough 1/4 cup at a time onto the prepared cookie sheets. Cookies should be about 3 inches apart.
Bake for 15 to 17 minutes in the preheated oven, or until the edges are lightly toasted. Cool on baking sheets for a few minutes before transferring to wire racks to cool completely.
* i use milk chocolate chips.
** i like to sprinkle a tiny pinch of sea salt on mine. mmmmm. if you're in to that sort of a thing.
*** don't be tempted to make them smaller, they aren't as good (texture is compromised) and trust, you will want them big :)
and just in case you were wondering how cute lewie is at 7 months old...
really, really, really cute!