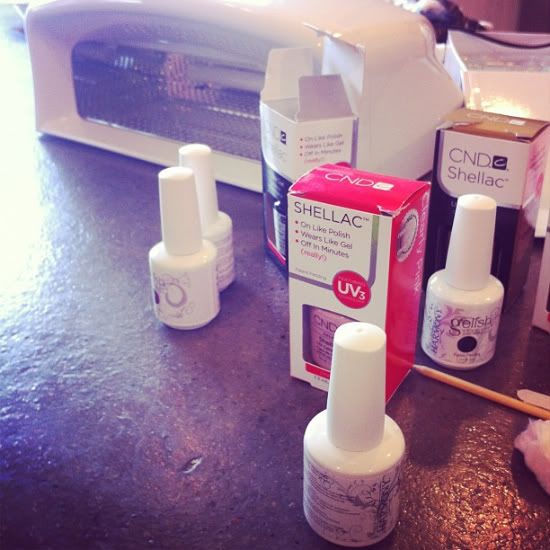 i got the whole outfit to do shellac at home and i'm honestly pretty obsessed. i'll give you a run down of what i got (maybe there are cheaper/better options, but i am really happy with what i have)
i got
this
lamp. i like it because it has room for two hands (or feet) to be cured at the same time.
this
cnd shellac brand base coat
and
this
cnd top coat
i got a mix of both
gelish
and
cnd
colors (both seem to work great and you can use
gelish
with the cnd system) the benefit to the gelish polish is that there are many more
colors
to choose from and the bottle is twice as big. be careful though, i cant stop buying polish. it's become an addiction and i literally want every color. they are on the spencey side though.
basically the process is super easy and really fast.
first you apply a thin layer of base coat, cure the coat under the UV lamp for 10 seconds (it will still be sticky so don't be surprised!)
then you paint a thin layer of color on, cure under lights for two minutes
then another coat of color, cure for 2 minutes again
next, apply the top coat and cure for three minutes
after you are done you need to take a cotton swap with alcohol on it and wipe each nail to take off the sticky coating
voila!
your nails are perfectly painted, totally dry and most likely wont chip or peel for a good few weeks.
please forgive me for the horrible iphone photos.
gelish allure with two coats of gelish twinkle on top.
gelish jet set with one coat of twinkle on my ring finger.
you can get fancy and do glitter shellac too. i did this on my sister today and i am in love with how they turned out. you can find all the info you'll need to know
here
.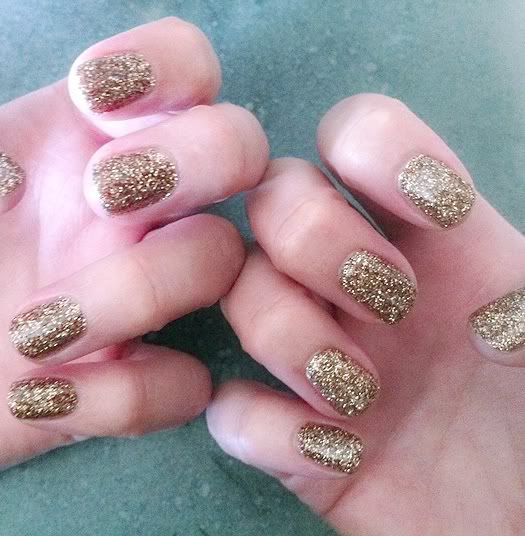 let me know if you have any questions! have fun :)